TMS Intelligent Transmission Tower Safety Monitoring System Solution
In recent years, due to coal mining, engineering construction and external force damage, the tilting accident of communication tower and electric power tower often occurs, which poses a great threat to the safe operation of tower as well as the human beings living nearby.
I. Background
The maintenance of traditional communication towers or electric power towers is mainly based on regular inspections and human observations. However, there is a certain degree of subjectivity, and it is difficult to manually measure certain parameters and discover potential problems in time, which cannot meet the needs of real-time tower monitoring. In addition, the traditional tower maintenance requires long-term investment in huge labor and management costs, and monitoring quality and data availability cannot be effectively guaranteed, especially the analysis of historical data. Besides, the field safety of maintenance personnel have become the main concerns of maintenance work.
In order to eliminate the safety hazard of the tower and avoid the occurrence of dangerous events such as tilting and collapse, it is necessary to use advanced technical equipments to carry out real-time safety monitoring of the tower to provide basic reference data for the centralized rectification, intermediate repair and overhaul of the tower.

II. Vigor TMS Intelligent Tower Safety Monitoring System
According to the practical tower monitoring situations, Vigor Technology has specially developed TMS Intelligent Tower Safety Monitoring System which adopts advanced signal acquisition, storage, backup, fusion, online calibration, wireless/wired network communication, web, alarm and other technologies to greatly improve the safety and reliability of the system. This intelligent tower monitoring system is economical and stable, easy in installation and maintenance.
1. Important Significances
The system can monitor the erect state of the tower, so the maintenance personnel can easily get the daily safety status of the tower. By setting a safe tilt angle, an alarm will be issued when the tilt angle reaches a critical value for the angle, and quickly check possibility of a safety accident. When abnormal inclination angle happens due to landslides, snow weather and etc., the timely alarm of inclinometer sensors can facilitate the quick recovery of the accident occurrence point, ensuring the early recovery of transmission line.
2. Main Features
1) Collect, record, store, and analyze various sensing data such as settlement, tilt, video, vibration, and meteorology of the tower, and realize the fusion calculation between each data.
2) Multiple hot backup functions, greatly improving system reliability.
3) On-line sensor drift calibration and compensation without additional maintenance costs.
4) Distributed storage and relatively independent work, greatly reducing IT input costs, maintenance costs, procurement costs.
5) Built-in data fusion algorithm, greatly improving the degree of intelligence.
6) True "cloud computing" feature.
7) Built-in WEB server and data storage capabilities.
8) Any network-enabled terminal can view current/historical data and can set up alarms, sampling, transmission storage, diagnostics, etc. remotely or in the field.
9) Support offline, hierarchical warning mode, SMS, sound and light and other ways to alarm.
10) High flexibility, can be used in single tower or multi-tower networking, and is not limited by quantity.
11) Intelligent diagnostic function for abnormal detection of terminal equipment.
12) Supports Ethernet Wi-Fi 3G 4G GPRS switch output interfaces.
13) Multi-channel analog, digital, digital input and other inputs.
14) Open data interface protocol to meet the user's secondary development needs, with good capability.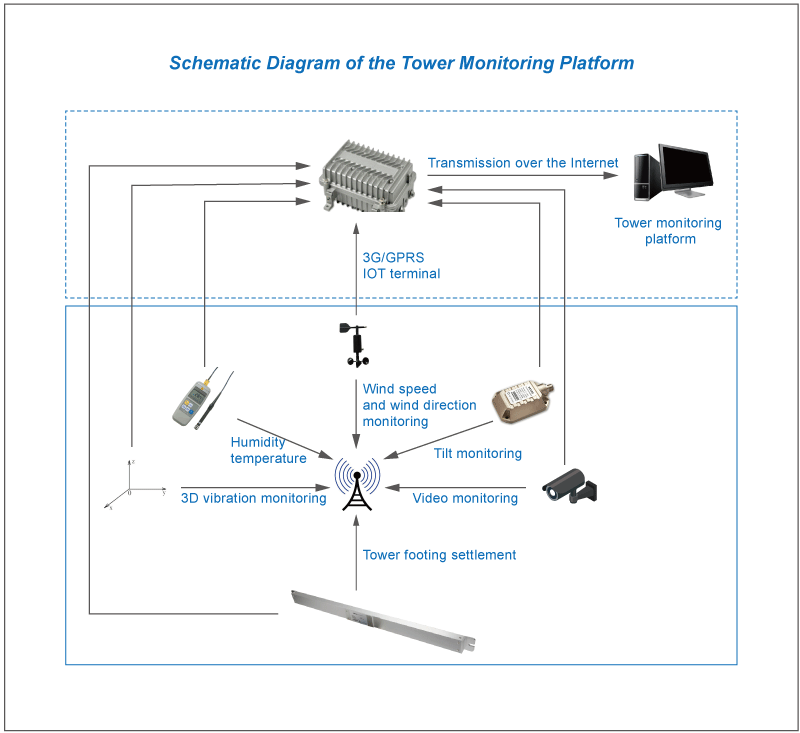 III. System Configuration
Parameters

Main Device

Backup Device

Backup Method

Temperature

weather sensor

inclination, subsidence, vibration sensor

backup device built in with temperature sensor

Humidity

weather sensor

humidity sensor (optional)

backup directly

Wind speed

wind speed/direction sensor

vibration sensor

mathematical estimation

Wind direction

wind speed/direction sensor

vibration sensor, smart camera (optional)

Mathematical estimation method,
Image Technology (optional)

Inclination

inclination sensor

subsidence, vibration inclinometer, smart camera (optional)

Subsidence

subsidence sensor

inclination/vibration sensor, smart camera (optional)

Vibration

3D vibration sensor

inclination/vibration sensor, smart camera (optional)

Video

camera A

camera B (optional)

backup directly

Power

storage battery A

backup storage battery B

parallel

Processor

processor A

backup processor B

synchronization

Transmission

Ethernet/ 3G

3G/ Ethernet

wireless and wired backup

Storage

SD card A

SD card B

synchronous save
IV. TMS System Measuring Performance
Measuring parameters

System Performance Indicators

Sensor Type

Temperature

±0.2℃

weather sensor

Humidity

±3%RH

Atmospheric pressure

±0.5HPa

Wind speed

±0.2m/s

wind direction meter anemometer

Wind direction

±2°

Heading of station

0.1°

antenna sensor

Inclination of tower

±0.02°

inclination sensor

Foundation subsidence

0.05mm/m

subsidence sensor

Vibration acceleration

0.2mg

vibration sensor

Power line attitude

acceleration speed: 0.2mg

Dynamic attitude sensor

cone swing speed: 0.1°/s

line/lateral dance angle: ±0.5°
V. Conclusion
Vigor Tech TMS tower safety monitoring system has been successfully used in many districts such as Russia, China, France, Britain and etc. for real-time monitoring in attitude and inclination of communication towers, electric power towers, advertisement towers, buildings and so on. It effectively reduces the cost in maintenance and monitoring of tower, and prevents the dangerous events from happening.